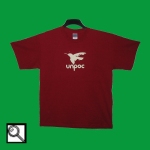 Size info.
UNPOC T-Shirt : £12.00 (incl. worldwide postage, nice and simple!)
This deep red colour - I think it's called Cardinal Red - is the same one I always wore on stage.
Happily, I've sold all the t-shirts, so it's more of a browsing shop than a buying shop, atm, tbh. Nice to have a browse though.